What Is Switchly Managed SEO?
Switchly Managed SEO is our fully managed Search Engine Optimization service that gets you awesome, targeted traffic – all custom built for you.
Over the years, we've analyzed a ton of data to know what works and what doesn't work in SEO. Switchly Managed SEO is the culmination of all our data, expertise, and experience.
You get a fully managed solution that combines our expertise, a powerful Search Engine Optimization (SEO) strategy, awesome link building, and premium content all with our best-in-the-business support.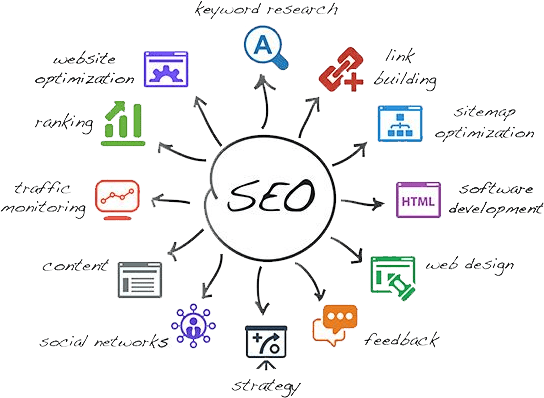 A Powerful SEO Strategy
With Switchly Managed SEO we put together an advanced SEO strategy to MAXIMIZE your rankings and traffic in a strategic way.
It involves two major components:
Maximizing current rankings with our "Easy Wins Method"
With Switchly Managed SEO, we identify terms that you're already ranking for and showing up in positions 4-30 in search results. We then push those terms up with a diversified, safe, natural link building strategy to get you quick increases in traffic.
Advanced Competitive Research
We use advanced competitive research to find what keywords you're missing: High volume, low competition, valuable keywords. Then we build out awesome, well-researched content with our Switchly Blogger Service to target those keywords that your clients and customers search for and use in the middle of their buying process so that you'll be more likely to be in front of them at the right time.
Combining both of these strategies helps you achieve awesome boosts in your traffic.
All The Bells & Whistles
Switchly's Managed SEO Service includes all the bells and whistles you've been looking for and that your
business needs to get awesome, targeted traffic to your website.
Dedicated SEO Team
We have a whole team dedicated to managing your campaigns. We're already experts at SEO and with our Managed SEO Service, you'll have a dedicated team behind you
Switchly Backlink Booster
Every link building campaign will receive a FREE Switchly Backlink Booster once the campaign is completed!
100% Customized Strategy
Just like our custom websites; there's no cookie-cutter campaigns here. Every single campaign is researched, planned, and customized for you, your goals, and your website.
Use Switchly's Backlink Booster in multiple ways:
Give your backlinks a boost
So, you have a link to your website on another website (yay, that is good!), but it's a new page or one that doesn't have much authority, so it doesn't have as big of an impact as if your link was on a website with a high DA. That's where we help, by giving the website that has your link a boost to increase its authority, which in turn will increase your authority.
Rank secondary properties
Want to rank a YouTube video, Facebook page, Local directory, etc.? Switchly Backlink Booster links are the perfect solution and bang for your buck to boost traffic to your YouTube videos, Facebook page or your business' second location.
Step 1
Sign Up for Switchly Managed SEO
Just get with your project manager and let them know you're interested in our Managed SEO service. Then just give us a few details on your website, your products, and your competition. If you don't know, that's totally fine too – we'll walk you through it.
Step 2
SEO Campaign Design
We will investigate your website, your competition, and determine the best strategy for you. We'll then share this plan with you and you can approve the orders, or even just let us do our thing – totally hands-free.
Step 3
Reporting & Follow Up
Each month you'll receive reports of everything we've done, 100% transparent. On top of that, you have the opportunity to review your progress with your Project Manager every month!
Switchly Managed SEO Packages
Frequently Asked Questions
Do I get to approve topics?
Yes! We research and confirm topics popular in your niche that will attract your target audience. Then we send them to you for approval. We want to make sure we hit the nail on the head every step of the way!
Can I approve the articles?
Definitely! We send you drafts of each article for your approval. You can send it back for edits as many times as you'd like.
Can you write about my industry?
Yes! Our process is journalistic in nature – We investigate high-quality sources for content and create a cohesive article based on facts, figures, and actionable advice.
Are these posts SEO optimized?
Yes, 100% – These articles are created to bring more traffic to your blog! This starts from the very beginning. We look for popular topics in your niche (by number of shares, number of comments, keyword popularity, etc.) to make sure what we write is going to be a perfect fit for you, before we even start writing. When we post to your blog, we will also optimize the post with an SEO title, description, short URL, and keywords.